Press
UNITED REGGAE INTERVIEW WITH RUSTY BY ANGUS TAYLOR:
Blues and reggae are musically aligned. Both have roots in West Africa. Before Jamaicans listened to ska, rocksteady and reggae on sound systems the selectors played American jump blues. Both forms had a heyday at home and spread widely abroad: to the point where some foreign enthusiasts consider themselves gatekeepers to what is authentically either.
Californian singer guitarist Rusty Zinn understands all this and more. A celebrated blues player in the 90s he underwent a journey of discovery that saw him become a ska, rocksteady and lovers rock singer. He swapped Albert Collins for Alton Ellis and never looked back.
Last month he released his seventh album (and third in reggae) The Reggae Soul Of Rusty Zinn: A Journey To The Heart Of Lovers Rocksteady. Released on Rockbeat Records it features covers of Frankie Valli, Gladys Knight and Jimmy Holiday, production from Sly and Robbie and guitar from the legendary Hux Brown.
Angus Taylor spoke to Rusty about his fascinating story of a life spent at the musical crossroads. They discussed his influences, his new album, and why he's a London reggae singer in a Californian's body.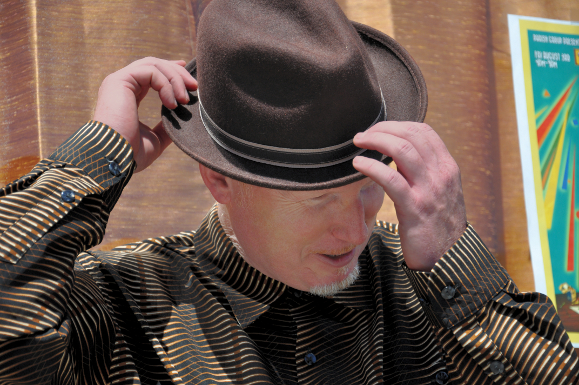 Have you always been in California?
I was born in Long Beach, down by Los Angeles, in 1970. Then in 1976 my folks moved up north to a place called Bonny Doon which is in the mountains outside Santa Cruz.
My parents struggled quite a bit. When me and my older brother were real little, boy, they were really struggling. They definitely didn't have any spending change. There definitely came a point in our lives where things got a little easier. By the time we moved up north they had saved and saved and they were able to buy a little plot of land in the mountains.
When I tell you we lived in the country, I'm not joking. There was no supermarket, no gas station, no post office, nothing. It was just forests. I was already exposed to music from when I was a baby but when you live in an environment like that there's only so much you can do, right? Music was like a trip to other parts of the world, other times, other dimensions and stuff.
What was your first sentient experience of music?
The first music I can ever recall hearing was the Stylistics and the Spinners, those Philly Soul groups, playing on the radio in the early 70s. I thought Russell Thompkins from the Stylistics was a girl singing! Then of course my parents would play Motown, a lot of doo-wop and Sam Cooke. My mom had a little 45 collection from when she was a young girl and there was a lot of Fats Domino in there, and Elvis Presley of course. As time went on I got exposed to the Beatles and there were all kinds of pop music. Growing up in Santa Cruz was interesting too because that's always been a port for culture. You could be exposed to everything in the arts and music in Santa Cruz. Definitely the beginnings were that soul and R&B mixture.
How did you get into the blues and when did you pick up the guitar?
My brother actually turned me onto the blues. One of his best friends was a Mexican fella and back during that time a lot of the lowriders around Santa Cruz would listen to blues and soul. My brother started bring home blues records and I got bit by that bug a little bit. You look back on it and think "Boy, I was listening to the blues all along" because so much of the rhythm and blues is just blues too. I don't really remember why I gravitated towards the guitar. There was a beat-up guitar laying around the house. My family's a musical family and my brother could play all different kinds of instruments. I just picked up the guitar and just started playing along with those records, strumming the strings a little bit.
What kind of records were you playing along to?
Early on I gravitated towards the sounds from Chicago but as I got older I started to develop a little more sophisticated taste and started to like Bobby Blue Bland and Johnnie Taylor and all those kind of things. Then when I got a little bit older, like when I was 18, I was able to start sneaking into black clubs in Oakland – places where they'd have a pistol check at the door and stuff like that (laughs), really lowdown places. You'd get to see a lot of really cool singers. D'you ever hear of a singer called Buddy Ace? I saw him perform at a club up in Oakland at a club called Your Place Too – that was a big turning point in my life because I got to see a guy that was really connecting with the audience, especially the females. That drove me crazy. I said "Man, if I want to get some girls then I'd better sing. Guitar playing alone's not going to get it" (laughs).
Within the blues, what was the achievement that you were most proud of?
Too many to mention. When I look back on it, in the 90s I had quite a lot of pinnacles in my career playing that music. I got to perform with so many people that I admired on record and became friends and toured with these artists. I was nominated for awards and I've probably done about 30 tours of Europe. It was a successful run.

People said "No, you can't do this. You're going to be a blues man for the rest of your life"

Who were you proudest to play with?
James Cotton. There was also a guy named Jimmy Rogers I used to work with a lot. Just a lot of those kind of artists from Chicago. It's such a small world. You meet one guy and he digs you, and then he lets the next guy know when they're coming out to California like "You've got to check this kid out, he can play our music" so I'd wind up getting jobs behind these guys.
Sounds like you were always a fan of the soulful end of the blues – which of course is exactly what some of the greats in Jamaica would have been listening to. In the same way that back when you were digging the Stylistics I guess Sly was probably doing the same.
(laughs) Exactly! Delroy Wilson I always heard was a Bobby Bland fanatic, and I love hearing those stories because it definitely makes you feel like "Yeah, I'm coming from the same places as these musical heroes of mine as well" you know?
How did you leave the blues behind for Jamaican music?
I was exposed to the Jamaican thing when I was living in Santa Cruz. Going to high school in the 80s, there was actually reggae in the charts and you'd hear UB40 and Maxi Priest and of course you'd hear Bob everywhere. During that time I had my ears open to everything – I was listening to the pop music on the radio, I was discovering blues, I was no stranger to reggae.
Was there a Damascus moment?
In the mid-90s I was sharing a house with a guitar-playing friend of mine in West Oakland and he had a bit of an early Jamaican music collection. It was small but he started turning me onto like the classic Desmond Dekker and the Aces on Beverley's, Jimmy Cliff's output for Lesley Kong – you know, like the Harder They Come and all of that, and he turned me onto the early Wailers. My God, it just hit me upside the head. It was just amazing. I guess at the time I thought it was like "Wow, this is like island soul music". It just took a hold of me. It kind of became this closet infatuation because when I would mention it to people in our circles they would be like "No, you can't do this. You're going to be a blues man for the rest of your life", you know? I really didn't want to keep on playing blues because I always thought that maybe my voice was a bit too sweet to play blues. And I didn't really feel that I could write a blues song that stood up to some of the classics. It just didn't seem like very relevant music for me at the time. So I was just developing this passion real quick for Jamaican music and building my collection and discovering all these artists.
Then I went to see Jimmy Cliff perform live and that was a huge turning point for me. That day I had quite a dilemma because I could either pay to see Jimmy Cliff live or I could see Solomon Burke for free at Golden Gate Park, and I chose to go and see Jimmy Cliff. I'm glad that I did because it was a huge turning point in my life and I said "Boy, this is what I want to do". A couple of years after that I saw Alton Ellis live and that was kind of the icing on the cake. Alton Ellis was backed by the Soul Syndicate that time and they opened with a medley with his hits, teasing the audience. I'd never seen anything like that and I'm just going "Wow! This is like Reggae Showtime at the Apollo or something!" So really I was coming into it and understanding from a soul music perspective. After they did that little medley all of a sudden you hear Alton's voice and he's singing the intro to Willow Tree and then boom! The band hits and he comes running around from the back of the stage, all dressed in white. My soul was overtaken and I said "This is it! I've got to do this. This is what I want to do". So it was just this whole new world to me and it was nothing that I thought about or planned or pre-meditated, it just took over.

My soul was overtaken and I said "This is what I want to do"

Do you have any regrets?
It was just kind of a plunge that I had to take. I knew it was going to be a sacrifice, that it was going to be basically like starting over again. I knew I was going to lose a major part of my income (laughs). But in a sense it all kind of came at a good time because I could see that the music industry in general was fading. I just thought "Well, man, if this thing is going to eventually just kind of fall off into the ocean, I might as well just reinvent myself". And I just plunged myself into it. The main thing is that the songwriting for me was just like night and day, when I started channelling the Jamaican music thing into my own sound I could just write songs like that (clicks fingers). It was so easy, because obviously reggae and blues is very similar in the storyline a lot of times, but in reggae oftentimes there'll be a light at the end of the tunnel. Blues there's no resolve in the story. I kind of wanted to get away from that too – because you've got to be careful what you sing about, it could easily come true, you know?
You grew dreadlocks at one point.
I had dreads for a number of years. It's kind of hard to explain. I definitely became intrigued with the whole kind of Rasta thing and became friends with Jamaican expatriates that lived around here that were Rasta. It was just kind of part of the journey. I think I eventually just came to a place where I was like "I just want to be Rusty". I've always been a spiritual seeker. To me at this point it's just kind of believing in the power of the universe. That's where I'm at.

I've always been a spiritual seeker

There is quite a community of original reggae artists in California. Soul Syndicate, well, pretty much everyone except Chinna, went over and settled there, and of course your first reggae CD was done with those members.
With Tony Chin, Fully Fullwood and Santa Davis, yeah. What happened with that was there was a record label down in Southern California that I was signed to. It wasn't a multiple record deal, we were doing one-off records. I had already done a soul record for this label and I came to them and said "I've been wanting to do a reggae thing for a while" and this label happened to be supportive of me doing that. I wrote a batch of songs and they knew somebody that knew Fully Fullwood, so the record label flew me down to Southern Cal to meet Fully and the record executive took me and Fully and his wife to dinner, we wound up talking and then the next thing you know we were in the studio. That record was completely lost – it never got any, not a single ounce of promotion at all. It did garner one of the greatest reviews I've ever had – Chuck Foster gave it a glorious review, which felt really nice, definitely encouraging for me when I was starting something new. I became really good friends with Tony Chin and he became a mentor of sorts to me. That was definitely one really good thing that came out of that project for me.
For your second CD you went Jamaica and recorded with Sly, Mikey Chung, Boris Gardiner, Robbie Lyn.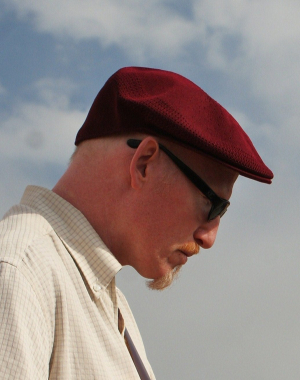 That was like a spiritual pilgrimage that I had to make for myself. It was an incredible experience and so much happened when I was down there. One of the things that I'll never forget is pulling up to the yard of the Mixing Lab studio. Bunny Lee was there, I see him standing out in the yard there and there was a bunch of dreads circled around him, like he was holding court. That's kind of how it was when I was down there, everywhere you'd look you'd see somebody that you admired or that you knew about, on every street corner. It's just incredible.
I was there for about a week before we recorded and I was a bit nervous because when I arrived Mikey hadn't booked the studio time, and I'm the kind of guy, I like things to be planned and prepared, I'm kind of like "God, the worst case scenario, I go back with nothing", like no recording. The whole time Mikey's like "No, man, just cool down" you know? And he asked me "Do you want to go into the studio right away or do you want to wait and get the vibes?" And I told him "I'd rather wait". He said "That's the right answer. You've got to get the Jamaican vibes before you jump in the studio". So we kind of chilled out for about a week and he and I went up into the hills. We sat on his veranda, we had a little guitar I'd brought with me, I sang my songs for him and he charted them out – wrote out charts for Boris and for Robbie Lyn. Then he booked the studio… literally he had me over for dinner one night and he booked the studio after dinner the night before we went in the studio (laughs). Mixing Lab, which is Roy Francis. So we went in there and the whole time I was down there, you're nervous, man! Because you've got to bring something, you know? You have to show these guys that you can do something. The first tune we did of the session my knees were literally knocking together I was so nervous. Myself, Boris, Mikey and Robbie Lyn were all in the engineering room. They were all going direct into the board and I was singing more or less a guide vocal, and Sly was in the drumming booth, separate from us, so couldn't make eye contact with him.
Sly produced your tracks Wear A Crown and You're The One – did you know him before you went out to Jamaica?
Sly knew me as Mikey's friend and when Sly and Robbie would come through town, sometimes I'd pick them up and take them to the show. So Sly knew who I was but I don't even know if he even knew I was an artist at all. So this is the first time he's hearing me sing, so after the first song I was so nervous I went outside to get some air and he's already out there. He looks at me and he says "Rusty, me never know you sing so wicked!" He was bigging me up and it gave me that encouragement and that strength to go back in there and feel confident. He said "You're a wicked songwriter. I'm going to send you some riddims and have you voice them". So going down there opened that whole door for me, for a relationship and a collaboration with Sly. That was an amazing trip, and you know, Scully Simms wound up on that session too which was amazing. He was one of the key guys I wanted to meet when I went down there because I'm a fan even going back to the Bunny and Scully days when Scully used to sing all the old rhythm and blues. It was just an amazing trip. I really can't wait to get back.
You've got Hux Brown playing on your new record. He was a key architect of that Beverley's sound. He lives near you.
Who actually linked us up was Brian Atkinson, the bass player from Studio One back in the old days. Brian and Hux played in a group at Studio One called Soul Vendors, and I was up in Toronto in 2010 doing a recording session with Brian, Ernest Ranglin, and a cat named Lloyd Delpratt. He is a keyboard player.

This record I've kind of come full circle

Yes – he worked with Derrick Harriott.
That session sadly is still in the vaults. I don't know if that's ever going to come out, but during that whole week I was telling Brian "Man, you've got to link me with Hux Brown, that's my hero. The guy lives right in my backyard" because Hux has been living in Oakland since the mid-70s, even though he was touring with Toots at that time he met his wife-to-be and moved here. Brian hooked us up and Hux and I met for lunch one day, and the rest is history. When he was playing in my band we threw out our wah-wah pedals and phase shifters, you know what I mean? He really stripped the band down. At that time the majority of our material we were performing was more or less rocksteady and it was a great learning experience. Man, we learned so much from him. He'd say "This is how we would do this at Studio One" or "This is how we would do this at Beverley's". It gave us inspiration because reggae music, like any genre, becomes so formulaic. Almost like the younger people, even if they're from Jamaica, seem to play the skeleton of the music and they miss the detail and the nuance, and that's where a guy like Hux Brown comes in because they're all nuance and little subtleties, and all of that really rubbed off on our sound.
What would you say this new album brings to the table in terms of your development?
Well…
I made it sound like a job interview then, didn't I? Are you a good team player?
(laughs) I am a good team player actually! Being a good team player makes your music stronger in a sense. The record I did in Jamaica had a lot more spiritual themes, which maybe I was touched by more at the time. This record I've kind of come full circle back to the beginning of my foray into Jamaican music, and that is that I fell in love with it through soul music. When I started working with my manager Bob Bell I think he felt that if I recorded something that had more secular themes it would give it a broader appeal. I didn't have a problem with that, it wasn't like a manager coming in and twisting your arm and saying "You have to do this". It felt good. I've always said this too – to me love songs are very spiritual, you know? To me a love song is as conscious as anything else.
I think it's a combination of the fact that I'm older and maybe developed a little more wisdom, we hope, and sometimes it takes you forever to meet that kind of person that makes you want to write these kind of songs. The other thing is, you know I'm a UK lovers rock fanatic, so that's rubbed off quite a bit in my music as well.

To me a love song is as conscious as anything else

Alton Ellis is a big part of your sound but one thing I'm hearing in a couple of the songs on the album is Studio 1 Bob Andy. That vintage-sounding reverb and that slightly wailing sound?
Wow. Yeah, that's interesting that you say that because I love Bob Andy of course. I guess I've never sat down and tried to sound like a particular singer, even Alton. Sometimes I'll hear a playback of a vocal of mine and I'll say "Oh my God, that lick right there was definitely coming from Alton subconsciously" but man, Bob Andy. I do have to say that Bob Andy's song-writing has probably been a big inspiration to me, just how he writes maybe a little more intelligently than a lot of writers. How him and Joe Higgs both had… it's almost like I wonder if those guys listened to Bob Dylan or something.
When I interviewed Bob Andy back in 2010 and asked him who his favourite songwriters were, he put Bob Dylan at the top of his list.
You can hear that. Those guys approach a lyric differently. It's not always "Oh baby, baby, I love you". They're always coming from a more philosophical approach to songwriting. But when you mention the reverb and echo too, I guess you're getting that… you're hearing exactly what we're into. The engineer that I'm working with nowadays, one day I brought him Cornel Campbell's Studio One version of Stars. And I said "Chris, I want this reverb and echo sound. This is the sound I want" and he's really keen on the vintage sound anyway and he knew exactly what it was. I get inspiration from the sound because that's the sound of most of the records that I love.

Dennis Bovell. I really admire his work so much

You've worked with Sly and Robbie, you've worked with Soul Syndicate, you've worked with Hux Brown. Who's on your list that you haven't worked with yet?
As you know I'm really keen on the UK sound. There's quite a few musicians from the UK that I'd love to work with. I'd dearly love to one day collaborate either in the studio or on stage – hopefully both – with Dennis Bovell. I really admire his work so much. You know, I love Mafia and Fluxy, I could see myself doing something with them. I'm actually in the middle of doing some collaboration works with a producer from Birmingham named Phillip Gadd. That's going to be an on-going thing, we have quite a few things in the works. I'm really excited about that. I think I'd like to align myself more with the UK because I just feel that, for me, the UK kind of seems to carry on the tradition of the sound I like a bit more. It's very hard to find guys in the United States that would play with that sensibility, with that kind of old school approach. You guys have got so many great bands – the Ruff Cut Band, I love that band, all these kind of groups over there.
Your manager is Bob Bell, who ran Trojan for a while. How did you link with him? You must hear about a lot of UK reggae history from him.
Absolutely, Bob's got great stories. Hux Brown lives literally a block and a half from Bell so there's been times where the three of us are together and they're bouncing stories off of each other. It's always dynamite. Bell I met when I was probably 22, 23 years old. He was managing Roomful of Blues at the time and I was touring heavily with an artist at that time named Kim Wilson who was the frontman for a group called the Fabulous Thunderbirds.
Bell took a shine to my singing and playing. We became friends and we kept bumping into each other on the road, and then he wound up moving out here. I didn't see much of him for the first several years he was out here but I was walking down the street one day and I heard somebody yell my name. I couldn't believe he recognised me. I had just come back from Jamaica and I had a big beard and dreadlocks, I mean how does this guy even recognise me? (laughs) We started talking and I said "You should be my manager" and he says "You know, I really don't want anything to do with the music industry whatsoever. I'm retired from it". He started coming to our shows and Hux was in the band and it was all quite exciting for Bob, I think, getting to hear this music again. I kept pestering him to manage me and he wasn't up for it, and I don't know, one Sunday morning he called me after a show the night before and he said "Well, young man I have no choice but to manage you". And that was that! (laughs) He always says that he's not really a manager, he's an evangelist. We're definitely a team. He really believes in what I do and it feels good after all that he's seen and heard over the years, that he's taken a shine to what I'm trying to do.

I'm definitely like a freak of nature on the reggae scene

You are kind of an anomaly on the Californian reggae scene. People associate California with roots and herb.
Yeah, I'm definitely like a freak of nature on the reggae scene here. And even though the record that I did in Jamaica it's definitely got more of a roots sound, I think even when that came out maybe it was too old school roots for the California Bay area reggae scene. I have to keep it real, I have to be myself. It feels natural for me to put on a suit and go out on stage and try to sing pretty and try to convey the message with soul. That to me is as authentic to reggae music as you can get. Whether or not the public sees it that way, this is something I feel really strongly about and I just have to keep pushing forward with what I believe in. I'll never forget one time Mikey Chung saying to me, he sucks on his teeth and says "Roots. We the musicians, we're the roots. The roots is nothing but us who created reggae music. We're the roots". That makes a lot of sense.
You've been on the blues scene and you've been on the reggae scene. When the blues was adopted in England in the 60s there were a lot of self-appointed judges and gatekeepers going around saying "This isn't real blues, this is not rough enough, it's not sad enough, it's not about how poor you are, it's got horns in." Are there any parallels to be drawn there between this and the reggae scene?
There are definite parallels. You always have these know-it-alls, these people who think they know what reggae is, or whatever genre you're talking about. But I mean you and I know there's nothing new under the sun, right? And I'm not trying to be vintage or retro, I'm just trying to convey the music in the way that feels natural to me. For instance you think about how the UK lovers rock sound is now, it's almost like just the modern adaption to rocksteady. I would just love to live in a world where the Peter Hunningales and the Bob Andys and the Ken Boothes, these are the artists that I think should be the highest echelon of these reggae artists. People that really sing, man. I mean I want to hear somebody sing! And that seems to be a real lost concept in this music, you know? You and I know that the dancehall is really ruling everything and that definitely doesn't help the music to move forward.
I don't mind deejays, I'm a fan of all the classic toasters but I think what it is, in the dancehall it's not really played by real instruments. I always think of that as being more of a computer-based sound and I don't ever really think often that the messages are what I'm looking for either. So here in the Bay area I'm not only up against these kind of roots purists. I'm up against that and I'm up against the dancehall phenomenon too. That's huge here as well. So it's kind of hard to find your niche, you know what I mean? It's very hard but we are, building an audience that just loves good music. The people that I really respect their opinion about reggae music, they love us, so that feels good. When you've got Sly Dunbar and Hux Brown feeling that what you doing is relevant and soulful it kind of doesn't really matter what anyone else thinks (laughs).
– Interview by Angus Taylor
_______________________________________________________________________
ECHOES (UK) REVIEW OF "THE REGGAE SOUL OF RUSTY ZINN":
RUSTY ZINN
THE REGGAE SOUL OF RUSTY ZINN [ROCKBEAT]
There's been quite a buzz about Rusty Zinn, an American singer/ guitarist who started out playing blues but who, of late, has diverted his talent and attention towards the more soulful end of the reggae spectrum. This new album shows that his musical transition is pretty much complete, as he wraps his airy, flexible voice round songs which combine melody, atmosphere and feeling. Backed by a tight yet fluid band which includes stalwarts like Sly Dunbar, Boris Gardiner and Robbie Lyn alongside some younger guns, Rusty rings the musical changes on a set of a dozen songs, most of which are from his own pen.
  
Kicking off with Rise Up, its ska beat as inspiring as its message, he moves through the warm, soulful reggae of Angie I Love You [a true life story, folks – Angie is Mrs. Zinn], the subtly stringsed-up pop-reggae of Pushing Towards a Dream, the Treasure Isle-style She Comes From Nothing with its neat brass counterpoints. He evokes the yearning melodies of '50s r&b songs on the merry and mellow ska tune Gift Of Love, and the classic rhythms of the early '70s on the assertive Woman Don't Settle. Indeed, Rusty must be a most happy fella, so confident and optimistic are his lyrics, with one exception: on Do I Stand A Chance he's the shy, uncertain suitor, yet paradoxically this is the album's best track, successfully capturing the smooth early '60s beat ballad groove of Wilfred "Jackie" Edwards. Even the guitarists have the licks of Dennis Sindrey and Ernest Ranglin, who played on the original Edwards tunes such as Tell Me Darling, off to a T.
   There are a couple of covers. Can't Take My Eyes Off You will be familiar to most readers through The Four Seasons' original, but The Turning Point is a rarer bird, originally cut by its composer, the great and underrated Jimmy Holiday, though Slim Smith did cover it in Jamaica.. Rusty has the vocal armoury to bring out the haunting melody of the former and the deep soul of the latter. Replete with strong songs, vibrant performances and well-crafted rhythms [though perhaps the mixer could have given a little more weight to some of them], this is not an album which will pin you to the wall on its first hearing; it is, as the man Charlie Ace would have said, a creeper. Give it a chance to creep up on you and you won't be disappointed.
– Mike Atherton
_______________________________________________________________________
BENTLEY'S BANDSTAND REVIEW OF "THE REGGAE SOUL OF RUSTY ZINN":
Rusty Zinn, The Reggae Soul. Nothing beats observing someone chasing their life's dream. It's like they've shed the shackles of life and get to float above the earth in a reverie of cooldom. Rusty Zinn has just done that. His lifelong love of rock steady music is something that rises above for him. Though he's known primarily as a blues guitarist, now he gets to stretch his wings and fly with a whole new sound for him. What a sound it is. On every single song here, Zinn sounds like this is the music he was born with. There is never a hint of being a sonic tourist; instead he sings with a lifelong love filling his voice, and has written all but three of the songs with such unerring instinct they all sound like they were born in the '60s when rock steady was just turning into reggae. Think Millie Small's "My Boy Lollipop" for early roots of the sound, and then add a half-century of development.
Rusty Zinn had to do this album, that much is clear. What he delivers is a bit like sleight-of-hand, because he does it so strong and seamlessly. Even the covers are clairvoyant-like. Frankie Valli's "Can't Take My Eyes Off You" is a jubilant cry of love, and Jimmy Holiday's "Turning Point" is enough to put plenty of glide in any stride. "Is There a Place" was kick-started by Paulette Walker's early version of a Gladys Knight classic, and shows how the rock steady circle remains wide open. Rusty Zinn even uses some original players and tracks from the Jamaican originals, showing how far he's gone into the zone. Albums are often like love letters, and this one comes straight from the heart of an American musician who has stepped into his musical homeland. Congo bongo forever!
– Bill Bentley
_______________________________________________________________________
COSMIC HUSTLE GROUP REVIEW OF "THE REGGAE SOUL OF RUSTY ZINN":
I might be getting grumpy and old but the best music has already been recorded, today's artists can't compare to those of yesterday. That is not entirely true, there are labels and acts who makes new music that sounds like the old. There is an increasing number of these and many of them get's it right. Ad "Rusty Zinn" to the list, his new album of "old" tunes hits all the right chords.
I often browse around the "Ernie B's Reggae" site and it was during one of these virtual window shopping sprees I first saw "Rusty Zinn", an artist I've never heard of. Researching online I learnt that he's Californian and started out doing blues but soon caught the Reggae bug and have been releasing albums for a few years. I have issues with Cali Reggae but this guy has the right attitude and tons of talent. Musically, he's "Bitty McLean"'s brother from another mother and even his voice sounds similar.
Rusty's focus is more spread than Bitty's though, where he does Rocksteady and more contemporary "Lovers Rock" only, Rusty venture out to cover a wider spectrum of Jamaican retro vibes (this is however more of a lovers album, with the od inspirational tune thrown in for good measure). It starts of with a upbeat, fast SKA tune "Rise Up" which provides inspirational lyrics and a very catchy refrain. It's oldschool SKA, the way it should sound, not no second wave, punk rock inspired crap. Things slow down considerably next on "Angie, I Love You" which has the vibe of a laidback "Gregory Isaacs" tune, very instrumental and organic sounding and proof of the enormous versatility Rusty has.
Among my favorites on here is "Do I Stand A Chance With You" where he adopts a "Jackie Edwards" sounding style. He gets the soul/do-wop/Reggae fusion 100% right and seriously, im amazed that music like this can still be made in this day and age. I read that Rusty's main influence is "Alton Ellis" and the remainder of the album is left to him proving that he makes excellent use of that influence. We get treated to more SKA vibes on "Gift Of Love" and "Rocksteady" on the last track "Woman Don't Settle" which sounds nothing but amazing, I love the sound, the lyrics and the singing.
I would not say that Rusty will fool anyone into thinking that the songs on this album is from way back in the day. Recording techniques has improved since then and this album sounds smoother than most early and late 60ies tunes from Jamaica does. Don't read this as criticism or negativity though, this is an artist who has fully mastered what he is doing and every song on here sounds very authentic. I love the fact that most songs on here is Rusty's own, original compositions. As much as i love the old "Studio One" and "Treasure Isle" riddims and think they will sound fresh for an eternity it's nice to hear new fresh melodies and songs. I'll try to end this review before I'll choke on the superlatives but all in all this is a flawless release that everyone who likes the sounds of yesterday's Jamaica must get.
– Krikon
_______________________________________________________________________
APRIL 15 UNITED REGGAE REVIEW OF "THE REGGAE SOUL OF RUSTY ZINN":
Californian Rusty Zinn made his name as a blues guitarist in the 90s, carving out for himself a reasonably successful solo career and a strong reputation as a session player. However, around 2000 he became interested in reggae and over the last few years he has become a full-time reggae singer, with his blues jobs very few and far between – and the blues' loss is most definitely reggae's gain.
Rusty has an excellent sweet and soulful voice – he names Alton Ellis as a prime influence – and a rare understanding of what the music requires. He has enlisted the musical support of the likes of Hux Brown, Mikey Chung, Robbie Lyn, Boris Gardiner and Sly Dunbar among others, and the album has the extremely accurate by-line "A Journey to the Soul Of Lovers' Rock Steady". Lovers' Rock? Yes, Rodigan himself has been playing Angie I Love You which sounds as though it should be on a well-played 45 from a small north London label circa 1980. Most of the set though is in a rock steady or early reggae style – Rusty reveals in his notes that his cover of Gladys Knight's Is There A Place was inspired by Paulette Walker and soul singer Jimmy Holiday's Turning Point arrives via Slim Smith. Lovely renditions Rusty's are too, and I can only mention that his original compositions are in the same vein. Try Do I Stand A Chance With You which sounds very much like very early Jackie Edwards, for a good example.  For lovers of older Jamaican sounds, this is as good as it gets. More please, Rusty!
– Norman Darwen
_______________________________________________________________________
FEB '12:  East Bay Express
"One Night of Zinn"
Local bluesman Rusty Zinn found a new voice in reggae.
A dozen years ago, Rusty Zinn was one of the fastest rising guitarists in the blues world. Noted for his incisive, consistently inventive playing and soul-drenched singing, he recorded for two of the country's leading blues labels — two CDs for Black Top, another for Alligator — toured with harmonica blower Kim Wilson's band, and was nominated for "Best New Blues Artist" by the Blues Foundation in Memphis.
In recent years, however, the Santa Cruz-bred, Alameda-based musician has reinvented himself as a reggae crooner. During breaks between tours with Mark Hummel & the Blues Survivors, he made trips to Kingston to cut two CDs of his original songs with such legendary reggae studio players as guitarists Tony Chin and Mikey Chung, bassists Fully Fullwood and Boris Gardiner, and drummer Sly Dunbar. Although still doing occasional blues recording sessions, most recently with Southern California's The Mannish Boys, Zinn hasn't done a live blues gig in nearly a year.
On Sunday, a night after headlining a reggae show at Ashkenaz, Zinn and his tight backing quartet played in the more intimate environs of Cafe Randevu, an Eritrean bar and restaurant at the corner of Broadway and 25th Street in Oakland. They currently perform there on the second and fourth Sundays of each month, and in April plan to begin playing every first Friday during Oakland Art Murmur walking tours.
The band kicked off with "Liquidator," the 1969 instrumental reggae smash by the Harry J. Allstars from which The Staple Singers would later borrow the introduction and groove for "I'll Take You There." Zinn and Bob Welch, his onetime Hummel bandmate, traded blues-bitten guitar solos over the steady loping grooves of drummer Dave Flores, bassist Etienne Franc, and keyboardist Russell Kreitman.
The focus then turned to Zinn's vocals. With Welch playing the intricate rhythm parts and talking the bulk of the solos, the leader largely limited his guitar work to simple up-and-down strokes with emphasis on the twos and fours of each measure while singing his own songs and versions of reggae oldies associated with the likes of John Holt, Alton Ellis, and Ken Booth in melisma-dripping tenor tones. Drawing on such early reggae subgenres as rock steady, lovers rock, and roots reggae, Zinn's own tunes alternated between the spiritual and the romantic.
"This is y'all's personal concert tonight," he told the first-set audience of five before digging into "Stick by Me," an American doo-wop tune by Shep and the Limelites that Holt had transformed into a lovers rock anthem. (It was raining outside Randevu, but attendance more than doubled by the second set.)
"We got two lovers right here," Zinn added, referring to a couple at the bar. "Why don't you rub-a-dub? Keep the romance in reggae."
He followed "Stick by Me" with his own "A Many Splendored Thing" from his current Manifestation CD. Are you gonna love him or leave him? Which will it be? You know that he can't love you quite like me, Zinn crooned over a lilting melody reminiscent of Rosie and the Originals' "Angel Baby," sometimes interjecting Sam Cooke-like "who-ah-oh-ah" yodels between phrases.
The subject matter soon turned from romantic to religious. During his song "My God," he cried out such lines as My God is not black nor is He white, but He's our salvation and our guiding light and Some call him Jehovah, some call him Jah. No matter what you call Him, He is the law. Unlike Rastafarianism, with its dreams of repatriation to Africa and belief in the divinity of a dead dictator, Zinn's vision is decidedly universal.
The second set found some in the growing audience up and dancing to the band's hypnotic rocksteady grooves. Zinn's reading of "Ain't That Loving You (For More Reasons Than One)," originally recorded by Johnnie Taylor and reggae-ized by Alton Ellis, was particularly impassioned, and during the vamp he added lines from Sam Cooke's version of "For Sentimental Reasons."
The mood again turned spiritual. Zinn, whose carrot-orange hair was concealed by a brown beret, lowered his pitch for the original composition "Mankind," asking at one point, Why do they call us mankind when there is no kindness at all?
Zinn has never been much of a self-promoter, but his professional profile has been expanding since Bob Bell signed on as his manager late last year. The Oakland-based Englishman knows much about the connection between blues and reggae, having been production manager for the Island and Trojan labels in London during the Sixties and Seventies and helping promote the careers of such reggae pioneers as Jimmy Cliff and Desmond Dekker. After moving to the US in 1980, he spent two decades as the manager of Rhode Island's Roomful of Blues.
"Rusty is to reggae what Roomful was to jump blues," he said before Sunday's gig. The analogy seemed spot-on.
– Lee Hildebrand
_______________________________________________________________________
DEC '11:  eGuide
"Rusty Zinn NOT a newcomer to Reggae"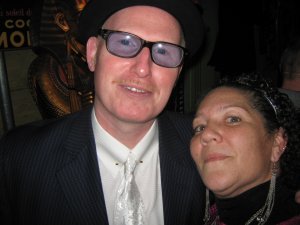 Rusty Zinn with eGuide Editor Yvonne Varner
I caught up with Rusty Zinn last Sunday after a performance and asked for a quick interview.  He agreed and here's the result…….
REeG – Catchy title, hunh?  Thank you so much for the interview – only a few questions.  Nice to meet you!  Let's get to it.  So, there are articles floating around now saying that you are a newcomer to Reggae music, let's touch on that first.  How long have you been enjoying the Reggae music scene?
(with Scully Sims in Kingston)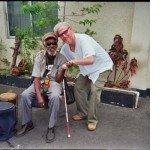 RZ
 –  Yeah, I guess that would depend on what somebody considers being a newcomer! He! He! I've been singing and performing Reggae music now for about ten years! It seems like the media wants to keep sensationalizing my journey into Reggae music. Maybe they think it's a good story, but to me I guess it's long yesterday's news and I'm only concerned with the future. I have two Reggae CD's at this point. The first one I recorded with  Fully Fullwood, Tony Chin and Santa Davis. We cut that back in 2006. My latest CD was mostly recorded in Kingston, Jamaica back in 2009 with Reggae luminaries such as Sly Dunbar, Mikey Chung, Boris Gardiner, Robbie Lyn, Scully Simms  and others. It's called "Manifestation" and it's on the 9 Above Records label. So, I guess I'm just trying to say that I've been very busy over the past few years manifesting my journey into Jamaican music. This is my passion!
RFeG –  Who would be your most infuencial Reggae artists?  Let's say top 3?
                                                                                    (with Sly Dunbar in Jamaica)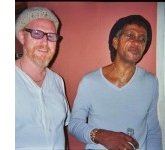 RZ
 – That's a very tough question to answer but I would say the great Joe Higgs who is considered The Godfather of Reggae would be at the top of the list. Of course most people know that he taught Bob & The Wailers many vocal techniques and tutored them, so to speak, but I love Joe's music because of what a fantastic singer he was and what an insightful and conscious songwriter he was as well. I think his music goes over alot of people's heads. He always seemed to avoid all the cliches and dogma of your average Reggae performer. He was one of a kind. There will never be
another Joe Higgs. Boy, if I had to pick just two other singers, I would have to say the great Alton Ellis has had a huge impact on my style and really it was seeing him perform live  that was a sort of an epiphany for me which changed my musical direction forever. Another classic Rock Steady singer like Alton I love would be Ken Boothe who is still going strong. He has a such a wicked soulful singing style. It's like a cross between Otis Redding and Nat King Cole. So, I guess you can tell I love really classic Jamaican singers coming from the foundation and roots of the music that we know as Reggae today!
RFeG –  What is the major difference between Reggae performances versus other genres that you have experienced?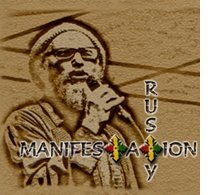 RZ
 – Another tough question to answer. I find that music is either good or bad. Those are really like the two genres ya know! He! He! I guess I find that younger people seem to embrace Reggae music more than Blues and if the vibes are right at certain Reggae shows, there may at times be a higher level of consciousness. The main thing in Reggae for me, is that there can often times be a similarity to singing Blues which may be the subject of sufferation, but in Reggae there always seems to be light at the end of the tunnel where in Blues there often is not that light in the end of the story! He! He! But I would say Love songs are my favorite! As Ken Boothe says, "love songs stand predominate"! What's not conscious about singing a love song for a woman? It's all part of creation! Bless!
Thank you so much!  We at Reggae Festival eGuide appreciate the time and effort you put into your music!
Love, Peace, Happyness & Music, Yvonne Varner
_______________________________________________________________________
NOV '11:  Rubber City Review
"From Cali to Kingston: The Unlikely Journey of Rusty Zinn"
Here's a tasty guitarist I lost track of a few years back. Then when I recently looked into his newer stuff – expecting to hear more variations on the rock-solid blues he recorded in the '90s – I was surprised to find out he'd reinvented himself as a 21st Century Rastaman… in a very sincere and soulful way. Let's put it this way – the California native didn't slap on a reggae beanie and start chunkin' so he could get a gig on a cruise ship.
My first introduction to Rusty Zinn was a fine album he recorded for the Black Top label back in '96: "Sittin' and Waitin'." It was produced by Fabulous Thunderbird Kim Wilson, who also sings and plays soaring harp on a few tunes. I pulled the album out of cold storage after listening to Steve Cropper's tribute to The "5" Royales, "Dedicated" – which I liked, but felt Rusty did a better job covering the band with his gritty remakes of 30 Second Lover and this classic: 
Think
As you can tell, Zinn really didn't need any help from Wilson in the vocals department. Although he started out as a sideman in the Bay Area for blues-based artists like Mark Hummel, Larry Taylor (Canned Heat) and Wilson, Zinn started singing in the '90s, probably in anticipation of a solo career. And his voice has only gotten stronger and more assured with each release.
As I revisited some of Zinn's stuff, I also remembered a conversation I had with bluesrocker Patrick Sweany about 15 years ago when I met him in a small club in Akron. After we shared a few niceties, he jumped right into a lengthy description of all that's good and right about Rusty's playing – a rootsy sound that combines the muscle and economy of a Cropper with the daredevil spirit of someone like Mickey Baker… a sound that seems to come from an era when Swing was King and shredding à la Stevie Ray was a disaster yet to happen: 
Stand By Me
Zinn put out another satisfying album for Black Top, "Confessin'" – a wide-ranging affair that included this great organ combo workout: 
Confessin' About My Baby
He also did a brief stint at Alligator, recording "The Chill" in 2000 before moving on to a couple of smaller labels (Bad Daddy and 9 Above). That's when things started to get real interesting…
His first post-Alligator release, "Zinfidelity, Vol. 1," took a detour into classic '70s soul, including long-lost nuggets like Sammy Taylor's Ain't That Some Shame. Then the reggae influence began to take hold on 2007's "Reggaeblue." And the artist now simply known as "Rusty" hasn't looked back since. He's teamed up with some of Jamaica's finest – including the legendary Sly Dunbar on drums and Mikey Chung on guitar – playing the island's greatest export with surprising conviction. Here's the title cut from his latest release, 2009's "Manifestation"
Rather than try to guess what inspired Rusty's move to reggae, we decided to ask the artist himself…
T.Q.: How did you get into the whole reggae groove? What were your main influences?
R.Z.: I was raised in Santa Cruz, which has always been a reggae-friendly town. I was exposed to reggae at an early age, and all my friends listened to a lot of reggae. However, it wasn't until the mid-'90s when my pal Bob Welsh turned me on to rock steady and early reggae through the music of Jimmy Cliff, Desmond Dekker and early Wailers. That started an almost "in the closet" fascination with Jamaican music, which eventually became a passion I couldn't keep contained anymore! My biggest influences in Jamaican music have been classic singers such as Alton Ellis, Ken Boothe, Delroy Wilson, Slim Smith, Joe Higgs, Milton Henry and Clinton Fearon, just to name a few.
Do you still play the occasional blues gig, or are you solely devoted to reggae?
I am totally devoted to my reggae, rock steady and ska music. I turn blues gigs down left and right, unless it's a gig I really want to do. Most of my blues playing now is only on recording sessions (they generally pay well!).
With the reggae influence now dominant, what's changed about your guitar playing and singing?
The obvious change would be that I've committed myself to learning to play the music authentically, just like I did in all of my years playing blues. I sought out the pioneers of Jamaican music and have befriended many of my idols and have learned a lot from them. I never sing in patois but sing in my own voice to keep it real and be sincere with the genre. My guitar playing has taken a total back seat to my vocals. I do a lot of gigs with two guitar players, and I often will just merely sing on these gigs, which is very liberating! I have two guitar players in my group. One is Bob Welsh, who really is responsible for turning me into a bonafide Jamaican music nut. The other is the legendary Hux Brown, who played guitar on thousands of sessions with players like Bob Marley, Jimmy Cliff, Toots & The Maytals and Desmond Dekker, just to name a few. It's funny, even though I don't always play a lot of guitar on the shows, I have learned a lot about the guitar from Hux. My singing has become more intense and passionate singing this music because I never was really happy singing blues, and I feel like I've really found my voice. I always enjoyed playing blues on the guitar but was never satisfied singing blues. For about a year before I really took the plunge and started only playing reggae, I was singing soul music on the road with a seven-piece band including horns. I was also mostly just singing in that project as well and playing guitar on numbers that really needed it.
What do the old blues cats think about your reggae stuff? (I've noticed some blues players and fans can be a little parochial.)
I haven't gotten much feedback from the old blues performers, as most of the older ones I used to perform with have passed on! Although Willie "Big Eyes" Smith got a kick out of it and laughed and told me he knew I went over to reggae cause that's where all the weed was… He! He! Which is funny cause I don't smoke herb at all. I have mostly gotten resistance from younger blues fans and performers. A lot of folks are always chatting behind my back. It often gets back to me. I grew dreadlocks and wore them for about five or six years and embraced many elements of the Rastafarian lifestyle for a time as well, and this seemed to terrify many "blues" folks. People told me I couldn't switch to another genre and that I would be a bluesman forever, but I felt I needed to be singing something different that better suited my voice and songwriting talents. It has ultimately made me stronger to come up against this resistance. I've always loved music, not just blues. My first passions were R&B, soul, etc… and The Beatles when I was a young boy, which inspired me to learn the drums first. Not very many people know that! I even played drums in an after-school Motown cover band with girl singers when I was a teenager! We did one public performance back then before we all went our separate ways.
How has the move been from a business standpoint?
From a business standpoint it has been like starting all over again… I've been accused of being "crazy" and "courageous," among other things. Some amazing things have happened to me in my reggae career already! The future looks bright, but the bottom line is I am happy singing and playing what I want. Check out www.rustyreggae.com and come join me on the journey.
More Rusty reggae… a live performance from "Parti Gras" in Toronto. Stick around for Rusty's solo – he really burns it:
_______________________________________________________________________
SEP '11:  SF Gate.com
"Rusty Zinn All-Stars: Bluesman turns to Reggae"
The blues nourished Rusty Zinn's soul, but reggae music has set his spirit soaring.
After a nearly two-decade run as one of Northern California's most lauded blues guitarists, Zinn has reinvented himself as a roots reggae crooner whose songs are suffused with spiritual uplift. While his journey has been shepherded by some of reggae's most influential and celebrated artists, he's still shedding his reputation as a high-octane guitar slinger whose scorching fretwork provided inspiration for an array of harp masters, including James Cotton, Kim Wilson, Mark Hummel and Snooky Pryor.
"I don't think people realize that I haven't played a blues gig for almost two years," Zinn says. "I was still doing occasional blues sideman work, but the reggae thing has been my key focus since 2007. It wasn't even premeditated, it manifested. The messages and the lyrics and the whole vibe just felt good."
He recorded most of his recent album "Manifestation" in Jamaica, where he turned over the guitar chair to Mikey Chung, a major force in reggae's evolution since the late 1960s. The ubiquitous drummer Sly Dunbar, who has provided a loping groove on tens of thousands of tracks with bass partner Robbie Shakespeare, piloted the rhythm section.
For Sunday's show, which includes the opening act Inner Riddim, Zinn is working with his Bay Area combo. And once again he is concentrating on delivering his bright, soulful tenor vocals while another Jamaican legend, longtime Oakland resident Hux Brown, handles guitar duties.
They've become fast friends over the past year, and Brown's seminal role in the rise of doo-wop-infused rocksteady, reggae's predecessor, jibes perfectly with Zinn's love of vintage R&B. As the guitarist for the Dynamites, the house band at Leslie Kong's famous studio Beverly's, Brown recorded with a who's who of reggae's emerging stars.
Perfectly cast as the lead guitarist and bandleader in the 1972 movie "The Harder They Come," he also collaborated on Paul Simon's hit "Mother and Child Reunion."
"Hux is so crucial in the development of reggae," Zinn says. "He was there at the creation of ska and rocksteady, and was one of the major pioneers of those styles. It's been a real blessing that he's become a good friend, and essentially the bandleader, arranger and music director. When he's onstage, I don't even play the guitar anymore."
Raised in Santa Cruz, Zinn grew up hearing reggae, but he became obsessed with blues as a teenager. He first gained notice with Mark Hummel's Blues Survivors in the early 1990s, and in 1996 released his solo debut album, "Sittin' & Waitin'," which led to a Blues Music Award nomination for best new blues artist.
"It took me a while to embrace it," Zinn says. "But at this point I feel this foundation in blues, R&B and soul has given me an advantage, at least in making music that pleases myself."
_______________________________________________________________________
JUN '11:  JahWorks.Org
"CD Review: Rusty Zinn – Manifestation"
There's nothing particularly rusty about this guy. He's got a better-than-average singing voice (he's even his own harmony section), he knows his way around the guitar (lead, pick and riddim) and his songs deal with love and unity and the Almighty – stuff that never ceases to matter. A native of Long Beach, CA, Rusty Zinn was raised on all sorts of music, becoming a respected bluesman before reggae took over as his primary passion. That passion is smartly manifested on Manifestation, which was recorded in Jamaica and San Francisco and proves to be the work of a skilled, confident artist whose blues roots are evident. Rusty also shows that he has a feel for pop hooks, conscious themes and reggae that's got soul (check the Stax-like horns that set off the altruistic opening number "Give Something You've Got").
Half the album's songs were Jamaican sessions with backing by elite players like Sly Dunbar on drums, Boris Gardiner on bass, Robbie Lyn handling keys, guitarist Mikey Chung and percussionist Scully Simms. But the Bay Area tracks are not lacking in roots quality either; therefore, the entire disc is one continuous flow of reggae and rocksteady goodness. Spiritual testimonies "My God," "Heaven Is A Place Called Zion," "For Creation" and "In Zion (There Is No Night)" are set to grooves as foundational as lovers' rock sentiments "How Could I Let You Get Away" and "A Many Splendored Thing." Zinn's voice throughout rings with rich clarity that could do justice to any genre of music – it just so happens he had the good sense to choose reggae as his means of getting this set of positive messages across. Manifestation is livicated to the memory of Alton Ellis, who is no doubt residing in the very same Zion that Zinn sings about and surely well pleased to have his name attached to such a very fine piece of work. Reggae on, Rusty.
_______________________________________________________________________
APR '11:  Rocking Steady e-zine
"CD Review: Rusty Zinn – Manifestation"
Fabulous! Rusty presents us with a really fabulous piece of work at the end of a long musical journey. It was a great idea to visit Kingston for the recordings and to work with well known Jamaican studio musicians at these original places (albeit, I recommend a better expander for the keys). I am certain they all had lots of fun over there because Rusty's songwriting is as persuasive as his unique voice, which is rooted to the higher octaves and sounds extremely soulful. "Give Something You`ve Got" is surely his honest calling, in which he gives everything he's got. The album is not only blessed with his great soulful voice, but also convincing with his Manifestation (nine above rec.) awesome, skilled, and soulful arrangements of the entire instrumentation. Manifestation is a real source of inspiration for anyone and is truly unique! We find Rusty's extensive musical career influencing his approach within his new favorite genre, which is absolutely beneficial for his music. This album is, as the title claims, a real manifestation in itself, and it won`t be easy managing to outdo its musical heights. However, an accomplished musician like Rusty knows how to deal with this type of thing. We look forward to many more releases. Bless, Rusty, bless!!